Susan Sloan, White Belt Nia Trainer and Black Belt Instructor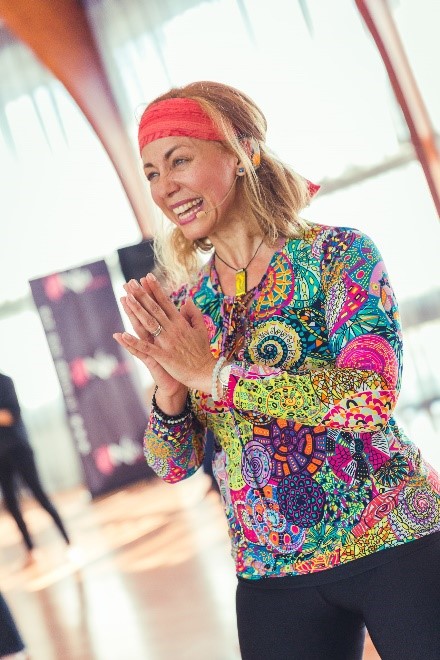 I was teaching my 08:00 class at the Virgin Active gym recently, and noticed how, slowly but surely, some of the previous Nia students were returning after six months of not having danced since before lockdown. On that particular morning, I saw how a couple of them had transformed from feeling tight and pinched, to being exhilarated from being in the class, and resuming their Nia practice. I sensed that they hadn't been doing so for all these months.
When I started putting together – and advertising – the online Nia White Belt in April this year, South Africa was in level 5 lockdown. I had no idea what it would be like to deliver an online White Belt Training over 16 weeks. I had done an online post-White Belt Learn-a-Routine workshop with a group of White Belt graduates in mid-April, and felt the sensation of intimacy and growth with the participants. It was as if I was in the White Belt with them again, as I had spent such dedicated alchemical time with them on their training. I knew that chances were high that I would experience the same alchemy and depth with a new White Belt group.
I had no idea how my expectations were going to be exceeded. In every way. The journey with my online White Belt group over the 16 weeks (June to October 2020) was incredibly rich and rewarding. All the participants were fully engaged and committed to their White Belt journey of embodying the 13 Nia principles. The transformation was palpable, and seeing the trainees in the Zoom classes every week, I noticed how they were getting more and more homed in to the magic of what Nia brings to their body and life. They were completely invested in moving through their blocks and life issues, and through the alchemy of the White Belt, they got to know themselves, love themselves, and could taste the feeling of what it feels like to 'Dance Through Life', no matter what was happening in their lives. They took the cognitive information and movement experiences and applied them to their lives. It was wonderful to feel their embodiment of the Nia principles each week in our sessions, and it was clear that they were really applying the principles. This group is a true testimony that the design of the White Belt is a gift to the body and the best investment for your body and life! I feel so proud, and look forward to seeing how the alchemy will continue to weave its magic throughout the next 13 moons and beyond.
Here are blogs from three of the participants.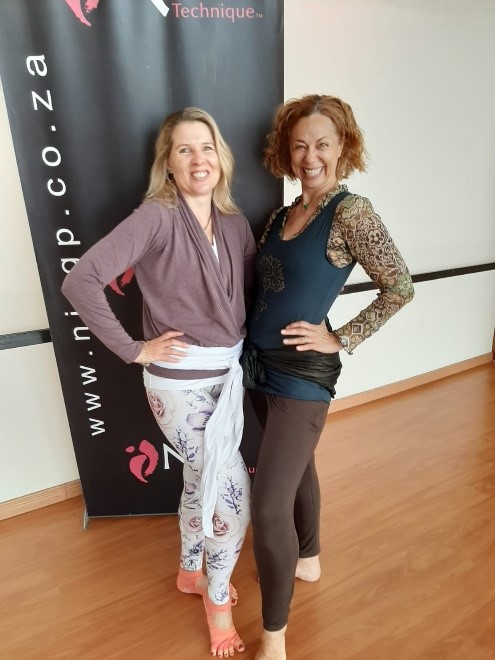 Julia Bonadei
I was stranded in Bali for nine weeks at the start of the South African lockdown. When I returned home, I found it very challenging to be surrounded by fear, death, infection statistics, and the heavy-duty restrictions that hadn't existed in my lived experience of daily life prior to my trip. My Nia White Belt was THE antidote. Fear had no chance against self-love; gratitude for my body and health grew in the flow of movement and universal joy; my thoughts, emotions, spirit, and my body embraced the FAMSS [flexibility, agility, mobility, strength, and stability], and this expanded my experience of being grounded, resourceful, and resilient in life no matter the external circumstances. Sixteen weeks of soaking in the Nia White Belt principles, making meaningful connections, and sharing in the safe cocoon of my close and loving community of fellow Nia White Belts, has not only given me wise friends for life, it was also a truly life-transforming experience. Susan is an amazing human and an awesome teacher. I recommend the Nia White Belt journey to everyone!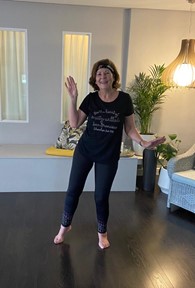 Constance Fraundorfer
I decided to gift myself something special for my 70th birthday, and the Nia White Belt Training was top of my list. Then COVID-19 hit, and I thought that my dream was gone. Our wonderful trainer, Susan Sloan, saved the day with an online training, although at the time I was disappointed as I desperately wanted an 'in-body' experience. It became the joy of my life and uplifted my spirits, and with each session I got stronger and stronger, and my White Belt Training carried me on a positive wave right through COVID-19.
Moving into each session – and using the tools given to us – has been the most enlightening event of my life. I've noticed my body becoming more agile, flexible, and much more stable; my mobility increased and, with that, strength emerged that I didn't know I had. The joy of movement in my body's way brought more awareness and spontaneity, along with new-found energy. The sensory studies filled me, and my spiritual awareness grew, swelling and filling me, expanding outwards, and I found my enjoyment overflowing inexplicably. I immersed myself into the training, and as I kept moving the Nia way, my emotions were positive and upbeat. Everyone I met outside of Nia was so envious, and it gave me great joy to explain that it was my Nia practice that was keeping me filled with joy and helping me through COVID-19. Graduating and receiving my White Belt has been the highlight of my life.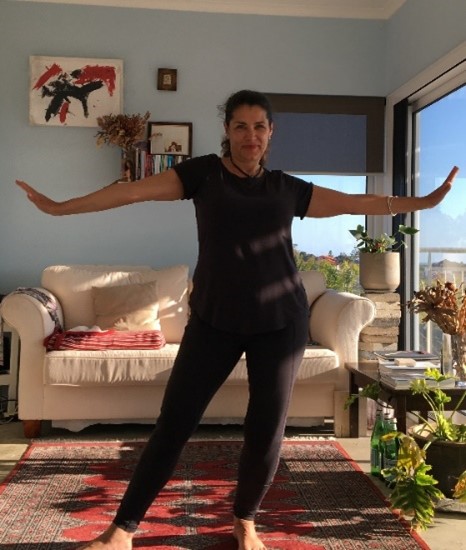 Louise Sartori
Nia and the online Nia White Belt Training delivered by Susan Sloan in South Africa has been a life-saver for me during the COVID-19 lockdown and in the face of various challenges that this pandemic has thrown my way. In fact, registering for the online Nia White Belt Training has been such a gift for me, as I live in Perth, Australia and was also able to attend the training for three weeks while in Canberra. My challenges included that my husband and I have been separated during this time due to travel restrictions (he is in South Africa); and that I accompanied my daughter when she relocated to Canberra in July to follow post-graduate studies there. These factors would normally have caused me to retreat into fight, flight, or freeze mode, or into depression. However, I was able to stay grounded in my body and to even experience intense universal joy by immersing myself in the Nia White Belt principles and carrying these into 'normal' life; also by experiencing these principles while dancing over Zoom with Susan and my wonderful fellow trainees. I'm also very grateful for Nia TV, and particularly for being able to learn and move the 52 moves with Debbie and Carlos Rosas (the founders of the Nia Technique).
Learning the principles and tools in the training took the benefits of Nia to a different level for me, and this has truly changed my life. It has given me a different perspective, allowing me to experience emotions and then work through them by using the tools that I learnt during the training. I have achieved a level of agility and strength that I didn't think possible, while honouring myself and dancing in the body's way by using the different levels as needed. I'm very excited to further the insights and knowledge gained during the training through workshops and practice. I have continued to take part in Nia classes on Zoom with Studio Kairos in Johannesburg, on Nia TV, and in person with Andrea in Perth. I'm enjoying dancing with Nia through my life's challenges and joys.